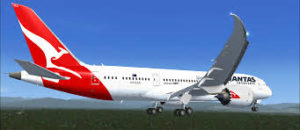 Qantas Pilot Recruitment Update
What you need to know before applying.
After almost eight years of hibernation the sleeping giant has awoken, after posting an impressive profit, Qantas has finally opened up pilot recruitment in earnest.
Now that the Qantas cadets have been recalled pilot recruitment has now opened up externally with hundreds of pilots receiving their invitation to complete the Talent Q personality assessment in early November with the pool of successful applicants attending their assessment days and sim checks.
The second pool of applicants are expected to be invited shortly to attend their Qantas Pilot Recruitment Talent Q assessments and recruitment is expected to continue until early 2018 as the fleet of Qantas 787 deliveries arrive on our shore.
"Competition for these positions will be extremely competitive" explains Flightdeck principal Interview Consultant
Sasha Robinson
. "With a large pool of both locally and highly experienced internationally based pilots to chose from only the very best prepared candidates are expected to be successful".
Flightdeck Consulting has prepared hundreds of successful pilots over the years prepare for their Qantas Pilot Interviews. Not only has Sasha worked in the pilot recruitment department of a major international airline she is also an accomplished airline pilot herself with thousands of hours flying the A330/ 340 around the globe.
"Qantas typically gives candidates only a few days notice of an impending Talent Q test and subsequent interview" says Sasha, "I highly recommend any pilot considering applying for a position with Qantas begin their preparation at the application stage. Too often I receive last minute panic calls from applicants with only a day or twos notice of their interview. Whilst we work 24/7 to accommodate every client there is no substitute to starting your prep early".
Services designed specifically to help you achieve your goals.
Psychometric Testing Software designed specifically to assist you with your Talent Q testing.
Qantas Specific One on One Interview Coaching.
Interview Preparation Software, perfectly designed for the Qantas Video Interview.
Qantas specific Simulator Assessment preparation.
Flightdeck Consulting  is uniquely positioned with the products and expertise to give you the best possible chance of success at your Qantas Pilot Interview.
Trust you Qantas Pilot Interview Preparation to the industries most respected Airline Interview Preparation company, Flightdeck Consulting.
Call, Email or visit our Products and Services Page to see how we can best assist you.
The Team At Flightdeck