Airline Pilot Interview Tips
Home
/
Airline Pilot Interview Tips

We are the aviation industries leading provider of airline pilot interview tips, training and coaching.
We are pleased to offer you our "Airline Interview Preparation Quick Reference Handbook" free of charge by simply registering below. Inside our QRH you will find tips and techniques on how to finalize your interview preparation.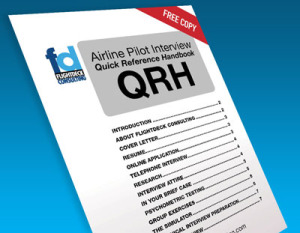 If you have an upcoming airline pilot or flight attendant interview visit our shop page to find our latest interview preparation solutions including our Airline Pilot Interview Workbook, Flight Attendant Interview Workbook, Online Courses, DVD's and personalized coaching and preparation sessions.
Meet Sasha Robinson, Flightdeck Consulting's principal interview coach. Not only is Sasha a former international airline pilot having flown Airbus A330 and A340's all over the globe she is also an accomplished author, university lecturer and flight crew manager. To read more about Sasha or to book a interview coaching session with her click on the image below.