Airline Pilot Interview Workbook
An ESSENTIAL tool for any Airline Pilot Interview
The
Complete Airline Pilot Interview Workbook
is a
fully
interactive course that requires your active participation.
The workbook will guide and instruct you on how to structure your answers and, in your own words, deliver them in a
clear, concise and professional manner.
Upon beginning the workbook you will start to see an immediate improvement in your interviewing skills. The workbook has been designed to provide you with all the necessary tools to answer any question put to you by the interview panel.
Available in Both Hard Copy and Instant Download – FREE SHIPPING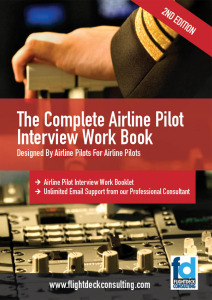 Covering all aspects of the Airline Interview Process from Initial Application, CV-Resume Writing, the SKYPE interview, to the full panel interview including Technical Questions.
Used by universities around the world to prepare their graduate pilots for their interviews.
Chapters include:
INTRODUCTION
THE PHONE INTERVIEW
SKYPE OR VIDEO INTERVIEW
THE PANEL INTERVIEW
HOW TO ANSWER THE QUESTIONS
OTHER POWERFUL QUESTIONS
WEAKNESSES
IVE BEEN FIRED
BEHAVIORAL QUESTIONS
TECHNICAL QUESTIONS
SCENARIO BASED QUESTIONS
DO YOU HAVE ANY QUESTIONS FOR US
TOP 50 INTERVIEW QUESTIONS
GROUP EXERCISES
RESUME AND COVER LETTERS
HELP DESK
Take a look inside the included "Complete Airline Pilot Interview Work Book"
ERROR: There is no book with ID pilot_workbook
AIRLINE PILOT INTERVIEW QUICK REFERENCE HANDBOOK
Also included free of charge is our AIRLINE PILOT INTERVIEW QUICK REFERENCE HANDBOOK.
Use your 14 page QRH right up to the moment of your interview as an aide memoire to ensure your preparation is 100% complete and to calm and clear your mind.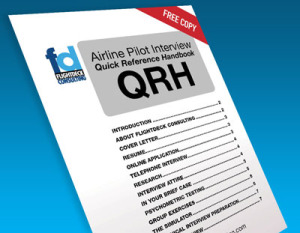 Ongoing Support Of course, like all of our products you will have access via email to our Principal Interview Consultant Sasha Robinson who is there to answer any questions or concerns you may have with your interview.
I have just been offered an F.O position Melbourne based starting in 4 weeks!! Sasha I did it!! I am so happy, it was so important that I got this job, there was a lot riding on it. I can't thank you enough for your support and encouragement, you are amazing Sasha. Thank you for everything.
- Tim Q, Jet Aircraft, Freight Company Australia
Read more TESTIMONIALS
About The Authors
Sasha Robinson
is a former international airline pilot with fourteen years experience flying the A330/ A340 and holds a Bachelor Of Science majoring in Aviation.
She has also worked in the aircrew recruitment department of a major international airline, is a regular consultant to Universities across Australia, as well as being a fully qualified 737NG simulator instructor.
Sasha is also the principal interview coach with Flightdeck Consulting.
Jason Robinson also contributed to the writing of the book. Jason has over 11,000 hours flying the Boeing 777, 744 and Embraer E-Jet.
We standby all our products. If for any reason you are not 100% satisfied we will refund your purchase price in full.