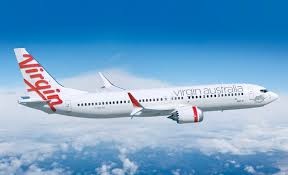 Virgin Australia First and Second Officers
Overview
Requirements
Salary & Benefits
Apply Now
Virgin Australia is currently seeking applications from suitably qualified pilots for the position of both First Officer and Second Officer.
Virgin Australia operates a fleet of over 115 aircraft including:
Boeing 737
ATR-72
Fokker 100
Airbus A320
Airbus A330
Boeing 777
Virgin Australia is currently accepting expressions of interest for Australian based B777 Second Officers, ATR72 First Officers, F100 First Officers, B737 First Officers and New Zealand based B737 First Officers positions.
The airline currently bases pilots at the following locations:
B737 – Brisbane, Sydney, Melbourne, Perth, Auckland, Christchurch.
B777 – Brisbane, Sydney, Melbourne.
ATR 72 – Sydney, Canberra.
F100 – Perth.
Minimum Requirements
The minimum flying hours experience and qualifications requirements are outlined below:
1,000 hours Total Experience
500 hours Multi-Engine
500 hours PIC
You will also hold an:
Australian ATPL or Australian CPL plus all Australian ATPL Subjects*
Australian Command Multi-Engine Aeroplane Instrument Rating
Australian Class 1 Medical
English Language Proficiency Level 6
Australian or New Zealand Passport or unrestricted right to work in Australia or New Zealand, as applicable
* Those with a NZ ATPL licence must have applied for the CASA equivalent licence, through the Trans-Tasman Mutual Agreement (TTMA) process, prior to the commencement of the recruitment assessment process. Evidence of an application will need to be presented at the assessment interview.
Please note that a NZ CPL with all ATPL Subjects is not an acceptable licence for the TTMA process.
Benefits
42 days annual leave
Loss of licence insurance
Annual salary increase
Exceptional staff travel program that can be enjoyed by your family and friends
The ability to bid for rosters that suit your lifestyle
Career progression opportunities including first rate training throughout your flying career with Virgin Australia, designed to equip you with the skills to consistently develop and progress toward command opportunities. There are future opportunities with the Training department, Technical Pilot roles and also management opportunities.
Fleet and operational variety
Engagement surveys that enable management to listen to the needs of team members and take action on the issues that matter
Employee Assistance Program – including 24 hour support for team members and their families
Paid parental and adoption leave – including 10 weeks paid maternity, two weeks paid paternity and three weeks paid adoption leave
Study assistance – we offer support for study linked to development
Salary sacrifice options – such as vehicles and superannuation
The opportunity to tap into the diverse offerings of the Virgin group globally
Flightdeck Consulting is uniquely positioned to give you the best possible opportunity of success in your Virgin Australia Pilot Interview.
Our clients have a proven record of success in their Virgin Australia interviews.
Along with our One on One interview training we also offer the highly successful Pilot Aptitude Testing preparation software and Pilot Interview Software
The pilot interview software, which is complimentary with our coaching service, is specifically designed to assist you with your Application Stage 2 – Flipbase Video. Flipbase is a short video you create answering questions provided by Virgin Australia.

Flightdeck Consulting can assist and will standby you through all stages of the Virgin Pilot Interview process.
When you appoint Flightdeck to prepare you for your interview we will also assist in completing your online application, ensuring the best possible chance of being called for an interview.
Contact us today to see how we can best help you.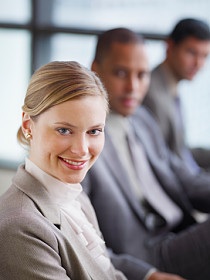 AIRLINE PILOT ONE on ONE INTERVIEW COACHING
Two one and a half hour, or a single two hour personal coaching session.
The Complete Airline Pilot Interview Course which includes:

Eight Virtual Interviews to help you perfect your interview technique.
The Airline Pilot Interview Work Booklet download version
Simulator Assessment Guide. Psychometric Testing Information.
QRH handbook

Complimentary Email Support from professional airline interview consultants.
Access to our up to date data base of questions currently being asked by your airline. A detailed written debrief.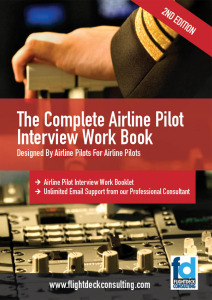 AIRLINE PILOT INTERVIEW WORKBOOK
The Complete Airline Pilot Interview Workbook is a fully interactive course that requires your active participation. The workbook will guide and instruct you on how to structure your answers and, in your own words, deliver them in a clear, concise and professional manner.
Upon beginning the workbook you will start to see an immediate improvement in your interviewing skills. The workbook has been designed to provide you with all the necessary tools to answer any question put to you by the interview panel.
Available in Both Hard Copy and Instant Download – FREE SHIPPING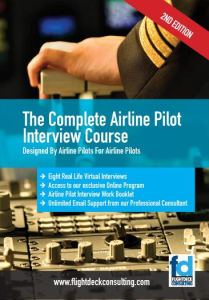 The Premium Airline Pilot Interview Package
Widely regarded as the best pilot interview preparation available this course will give you the best possible chance of success in your airline interview.
Pilot Interview Preparation Software – Eight Virtual Interviews to help you perfect your interview technique.
Perfect for your Flipbase Video
The Airline Pilot Interview Work Booklet download version.
Simulator Assessment Guide.
Psychometric Testing Information.
Quick Reference Interview Handbook.
Complimentary Email Support from professional airline interview consultants.
Available in both DVD and Instant Download.
Pilot Aptitude Test Software

Updated and ready to use for the Virgin Australia Cadet Program


"Pilot Aptitude Test"  software is the only fully featured preparation programme for individuals sitting pilot aptitude tests, assessments and in particular The Compass Test at airlines, flying schools, the airforce, military institutions and aviation recruitment agencies.

Don't let your competitors gain the upper hand, improve your chances of success and propel your career to the next level!