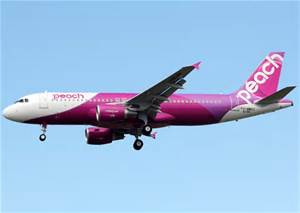 Peach Airlines

Peach Airlines, the Kansai based low cost airlines is currently accepting applications from suitably qualified pilots for the position of A320 Captain's and A320 First Officers.
Peach Airlines was formed in 2011 by a joint venture between Japanese carrier ANA and a Hong Kong based venture capital firm. It currently operates a fleet of 16 A320 aircraft with 2 more on order and fly's to over 17 destinations including Hong Kong and Taipai.
Peach Airlines pilots are based at the airlines hub at Kansai, Japan. The airline welcomes applications from expatriate pilots.
To be considered for a captains position candidates should possess the following qualifications
Hold a valid JCAB ATPL with A320 or other type rating or
Hold a valid ICAO ATPL with A320 or other type rating
4000 hours total flight time
1500 hours PIC (P1) time on commercial jets
Hold a valid JCAB or ICAO 1st Class Medical Certificate
Aviation English Language Proficiency (Level 4 or above)
With our strong presence in Asia, Flightdeck Consulting is uniquely positioned to give you the best opportunity of success in your Peach Airlines interview. When you appoint Flightdeck to prepare you for your interview we will also assist in completing your online application, ensuring the best possible chance of being called for an interview.
Contact us today to see how we can best help you.