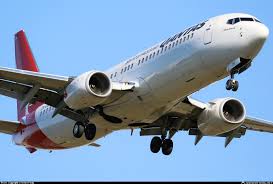 Jetconnect First Officers

Jetconnect is an airline based in Auckland, New Zealand. The airline is a wholly owned subsidiary of Qantas and was established in July 2002, commencing operations in October 2002. It operates Trans-Tasman services between New Zealand and Australia under the Qantas brand.
Jetconnect is now accepting applications from suitably qualified pilots to pilots to operate their fleet of Boeing 737-800 aircraft between New Zealand and Australia. Their pilots are an integral part of the team ensuring operational excellence within a safety conscious culture.
The minimum requirements for selection are
Hold a New Zealand or Australian Airline Transport Pilot Licence (ATPL)
Current Class 1 Medical Certificate
Hold a Multi-Engine Instrument Rating
Level 6 English Language Proficiency Demonstration
Hold New Zealand residency or the legal right to work in NZ
Be able to swim 50 meters (164 feet) fully clothed, then tread water for 3 minutes.
First Officer Position minimum requirements
2,000 hours total flight time
1,000 hours total Multi-Engine flight time
Total instrument time – 100 hours
Total night flight time – 25 hours
Total time on Air Operations- 100 hours
Boeing 737-800 Type Rating*
*There is a requirement for successful candidates to contribute 50% of the Type Rating cost (approx AUD 16,000).  However, if you successfully complete the Type Rating Course and the Jetconnect First Officer Training, Jetconnect will refund you this amount paid by you, in full, after you get checked-to-line.
Flightdeck Consulting is uniquely positioned to give you the best opportunity of success in your Jetconnect Interview. When you appoint Flightdeck to prepare you for your interview we will also assist in completing your online application, ensuring the best possible chance of being called for an interview.
Contact us today to see how we can best help you.