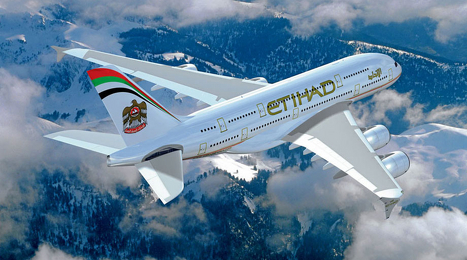 Etihad First Officer


Etihad Airways are now recruiting first officers on the A320, A330, A340, B777 and B787.
Etihad is the National Airline of the United Arab Emirates with its home base in the capital city of Abu Dhabi. The World Travel Awards has given Etihad the prestigious title of "World's Leading Airline" for the fifth consecutive year.
Since its inception in 2003, the airline has spread its wings to over 95 destinations across the Middle East, Africa, Asia, Australia, Europe and North & South America; earning the reputation of being one of the fastest growing airlines in commercial aviation history.
Their fleet includes the latest generation of aircraft including A320, A330-200/300, A340-500/600 and B777s with over 100 more aircraft on order with another 105 options and purchase rights including the A380, A350 and the B787.
The airline currently operates a fleet of 79 aircraft including 9 freighters and has set its sights to fly 25 million guests a year to at least 100 destinations by 2020.
A minimum of 2500 hours total flying time.
A minimum of 1500 hours on multi crew, glass cockpit (1) jet aircraft of which a minimum of 2500 hours must be in command.
A minimum of 500 PIC hours must be on type.
Unrestricted and current

ICAO ATPL

– Unrestricted and current Class 1 medical.
Must not have attained the age of 62 years old upon the date of joining
Current TRE/TRI is an advantage
English Language Fluency ( written and verbal ) Level 4 or better
In case of hours accumulated on flights with inflight relief, 75% of the total hours shall be counted towards the required minimums.
(1) Glass Cockpit: aircraft with a FMS coupled to APFDS

Salary and Benefits:
Starting salary of AED 26000 or US$ 7075 per month for First Officers and an annual salary increment of 2%.
Flight duty allowance of AED 40 per flying hour.
Meal allowance during layovers as per the following rates:
| | |
| --- | --- |
| Middle East/ GCC/ Sub Continent | AED 12 per hour |
| Asia/ Far East | AED 15 per hour |
| Africa/ Australasia | AED 18 per hour |
| Europe/ Americas | AED 23 per hour |
Housing allowance up to AED 160000 per year or company provided housing depending on availability.
Education allowance of AED 36000 for primary and AED 50400 for secondary up to 4 children.
Income protection scheme.
42 Days annual leave.
Staff travel benefits.
End of service benefits.
Accidental and life insurance benefits.
Please note that the above is subject to change without prior notice.
Flightdeck Consulting is uniquely positioned to give you the best opportunity of success in your Etihad Interview. When you appoint Flightdeck to prepare you for your interview we will also assist in completing your online application, ensuring the best possible chance of being called for an interview.
Contact us today to see how we can best help you.