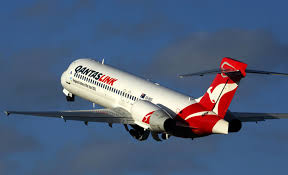 Cobham Aviation (Qantaslink)

Cobham Aviation is currently recruiting both direct entry Captains and First Officers for their  fleet of Boeing 717 jet  aircraft.
Cobham Aviation Services provides all crew and engineering support and services for QantasLink's Jet operations in Australia, and operates freight services for Australian air Express, along with charter services across its regional network for clients such as Santos, BHP Billiton and Chevron; resource companies that require Fly In/Fly Out (FIFO) services across remote Australia. Cobham Headquarters is based in Adelaide International Airport, with hubs at Cairns International Airport, Darwin International Airport, Perth Airport, Brisbane Airport, Sydney Kingsford-Smith, Canberra Airport and Hobart Airport.
The essential requirements for both First Officers and Direct Entry Captains are:
Direct Entry Boeing 717 Captains require an Australian ATPL and hold, or have held, an Australian CIR. Applicants must have a minimum of 6000 hours experience, 3000 jet hours and a minimum of 2000 hours as Pilot in Command with a minimum of 1500 of those hours being undertaken on Jet Aircraft of B717 equivalent or larger.
Boeing 717 First Officers require an Australian ATPL and a current Australian CIR. Applicants must have a minimum of 2000 hours experience and a minimum of 500 hours on multi-engine aircraft under Instrument Flight Rules as Pilot in Command.
A willingness to work a varying shift roster over a 7-day, 24 hour period. (This can include early starts, late finishes, weekends, overnight stays, public holidays and shifts involving work after midnight and before 6 am)
Flightdeck Consulting is uniquely positioned to give you the best opportunity of success in your Cobham Interview. When you appoint Flightdeck to prepare you for your interview we will also assist in completing your online application, ensuring the best possible chance of being called for an interview.
Contact us today to see how we can best help you.